The average lifespan of a furnace is 15-20 years. Furnaces are most likely to break under the highest load (in other words, when you need it most).
If your furnace has stopped working unexpectedly, or may need to be replaced soon, call us at 608-799-9805. We'll inspect your furnace and recommend repairs or a replacement furnace. If your furnace needs to be replaced, we'll discuss which options are best for your home, and give you a free, no-obligation estimate.
We are a Minnesota Xcel Energy Trade Partner
Inquire with us about which rebates maybe be available to you.
We are a Wisconsin Focus on Energy Trade Ally
If you are considering new heating and cooling equipment, Focus on Energy offers incentives and resources to help you make the most of your investment. Once your projects are complete, submit your incentive application within 60 days of installation. Applications and complete details are available here.
Financing options available.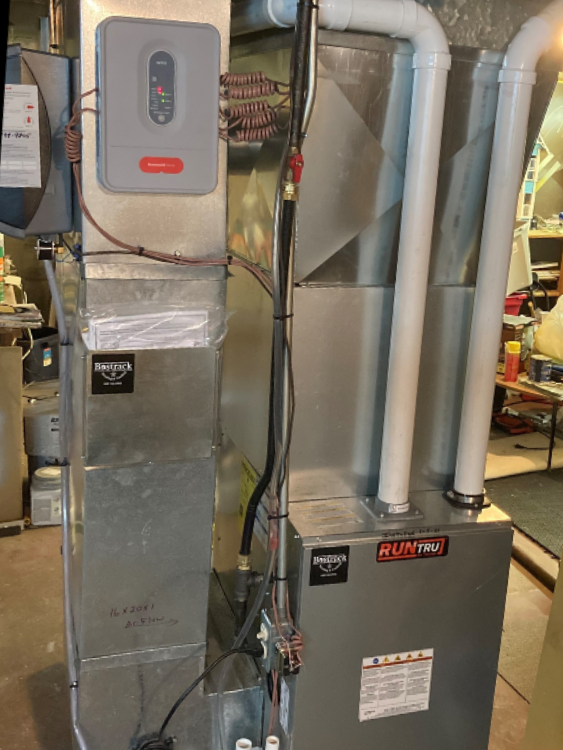 Furnace Installation Testimonials
"Bostrack Heating and Cooling replaced our furnace this week and I couldn't be happier. I contacted Adam last week when our old furnace went out. He showed up early the next morning, confirmed our furnace was shot, had a quote to us within 30 minutes, and new furnace ordered the same day.
He kept in close contact with me leading up to the new install and even borrowed us a few space heaters in the event we needed them. I really appreciate that Adam is a man of his word. He showed up when he said he would, completed the job on time and our new furnace is running like a champ. I highly recommend this business."
-Jamie
"Called Adam to do a yearly inspection and found that my furnace was on its last leg and recommended a replacement. He was able to get me in quickly and was honest and told me straight how it was. Kept me updated along the process and Adam personally answered when I called. Would highly recommend."
-Ben
"Bostrack heating and cooling recently replaced my furnace and central air unit. The owner, Adam, is the person I talked with and performed the work himself. He was incredibly knowledgeable, responsive and made the replacement as seamless as possible. He was professional and discussed the options and pricing with me. He quoted considerably less than his competitors while explaining the brands, equipment features and what I did or didn't need for my home. He communicated any changes he needed to make to my existing piping or duct work, fully cleaned up after himself and followed up with me after the work was completed to ensure I was fully satisfied with my new system. I'll happily use Bostrack Heating and Cooling for any future needs."
-Jeffrey
"We recently had Adam install a new furnace to replace our failed unit. His prices were the best we were offered and his work is top notch. He pays attention to details and executes his work in a very professional manner. I would highly recommend Bostrack H&C."
-Amber